Portfolio |
Museum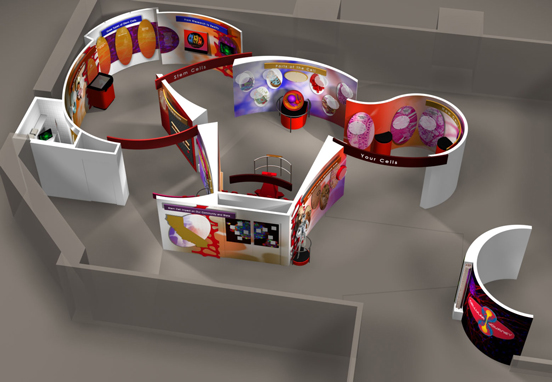 Cellular Journey

R.H. Fleet Science Museum
Cellular Journey is a 2,000 SF interactive exhibition designed to introduce visitors to human cell biology, stem cells and their potential impact on medical research in regenerative and personalized medicine. BANG! Creative was responsible for the turnkey planning, exhibit and graphics design, exhibit fabrication, construction and installation of their new permanent exhibit.
We needed to first orient visitors to the functions of a human cell and then introduce them to stem cells and the latest scientific / medical advances. We created an organic cell themed environment in which visitors travel first in the human cell then into the stem cell chamber. Rich microscopic cell photographs filled their travel as they encounter engaging exhibits with microscopes, dimensional tactile cell models, a stand up "cyto scooter", videos, slide magnifiers and interactive exhibits.
Two of the unique exhibits that required hundreds of hours of prototyping and R&D featured custom designed "cell sorter" in which visitors can sort "stained cells" with a micropipette like a researcher and a pinball - pachinko game to demonstrate stem cell differentiation.
Touring the Scripps Institute for Regenerative Medicine for background research, gave us inspiration to recreate a laboratory setting to display the fascinating equipment and to meet the researchers where they work. A mock laminar airflow research table was built and a microscope, incubator, computer station and lab equipment were acquired with a 3-part interview for visitors to select.